Bio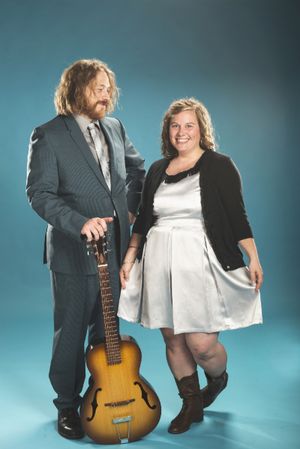 The Aching Hearts    
The Aching Hearts is a collaboration between two of St. Louis, Missouri's leading figures in folk and roots music. The duo features a mix of guitar, banjo, fiddle, mandolin, washboard, and old-time vocal harmonies. Utilizing songs of the past and the present, an Aching Hearts performance will take you on a moving journey through the sounds and stories of the American experience. Their hard-driving fiddle tunes will get you out of your seat. Their mournful country vocal duets will bring a tear to your eye, and their original songs and stories focus on life, death, love, and marriage are sure to inspire, entertain, and delight.    
Kelly Wells (guitar, mandolin, washboard, vocals)    
Kelly Wells, who now makes her home in St. Louis, MO, is a folk musician, DJ, music promoter, and organizer.  A native of Memphis, TN, she brings southern charm to her playing, a southern accent to her vocals, and southern sass to her songwriting.
Kelly hosts Steam-Powered Radio on 88.1 KDHX St. Louis and brings gritty old-time, hard-driving bluegrass, deep-south blues, heartbreak country, and relevant folk to the airwaves.
Kelly also serves as the Executive Director of KDHX, St. Louis' independent, commercial-free radio station and the Folk School of KDHX. She regularly hosts workshops and consults on community radio and folk music education in the modern age.
Ryan Spearman    (guitar, banjo, fiddle, mandolin, vocals)
Ryan Spearman is a folk musician, educator, and music promoter from St. Louis, MO. He's a nationally known figure in the old-time and acoustic music scenes.
A multi-instrumentalist, songwriter, and vocalist, Ryan has been performing folk and roots music professionally for the last twenty years.
Ryan founded and runs Play Better Banjo, which combines the guidance of an expert instructor and the support of a committed community to further your banjo skills.
Aside from his performance career Play Better Banjo, Ryan is an instructor and educational programming consultant at Folk School of KDHX where he has taught a variety of classes covering all sorts of folk-related musical subjects including clawhammer banjo, old-time & bluegrass fiddle, country blues, guitar, jug band, improvisation, music theory for the folk musician, & all things twangy.
Ryan and Kelly are the co-founders of the Green Strum Project and the St. Louis Folk & Roots Festival.